An Amazing Artisan Bread (GF and Grain free)!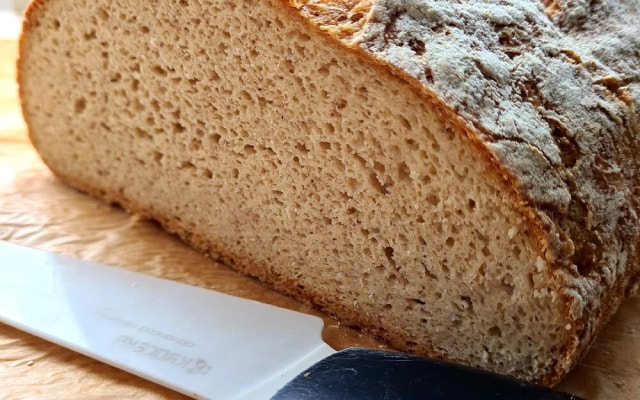 Bread.  A staple from pretty much the beginning of time for so many cultures and yet it can often get overlooked for what it contributes to our lives these days. A good loaf of bread can be moving. The smell wafting from the oven that pulls you in without you realizing you are slicing it when it is way too warm. The warmth that perfectly melt butter (or coconut oil), and don't even get me started on the perfect toast!
Yet, saying the words, "gluten free bread" and those warm fuzzy feelings usually don't happen. Over lockdown last year I got on the bandwagon of making amazing, slow rise, wild ferment sourdoughs and as much as I wanted to continue them as a staple, my body just gets a bit inflamed when I eat it day in and day out. Yet, when I eat grain free (this is why Yum is grain free to be honest), there is easier digestion and I feel great. My body works and feels younger than it is which is always a great thing!
This loaf is an adaptation from a recipe I found on the Loopy Whisk website. It is not only gluten free but I have taken it a step further to make it grain free so it digests well and because it is grain free, also has lower carbs, and more healthy fats and protein, which is always a good thing. This bread is nothing short of amazing when it comes to smell, crust, bubbles, and bite. I hope you enjoy it as much as we have!
Makes 1 small loaf (can be doubled to make 1 large loaf)
7g active dried yeast
1 T sugar
400g warm water (divided)
15g psyllium husks
130g buckwheat flour
100g potato starch
90g millet flour
7g sea salt
12g apple cider vinegar
Place yeast, sugar and 150g warm (to the touch but not hot) water in a small bowl and give a little stir. Let sit for 10 minutes while you prep the other ingredients.
Place psyllium husk and 350g water in a medium bowl and give a good whisk. Let sit while you prep the rest of the recipe.
In a large bowl, whisk together buckwheat flour, potato starch, millet flour, and salt.
Add yeast mixture, psyllium mixture (it will have turned into a gel-type mixture), and apple cider vinegar and mix well, turning into kneading for 5 minutes until thoroughly mixed and a nice dough.
Transfer to an oiled bowl, cover with a towel or plate, and let rise for 1 hour in a nice, cozy, warm spot (until doubled).
Lightly knead (I just fold over the four sides and flip it seam side up, onto a floured (millet flour works good for this) proofing basket (or bowl). Cover with towel and let rise for another hour until doubled while oven preheats.
Preheat oven to 250degrees C. Place your baking vessell (I use a ceramic pot with lid) to preheat.
Once dough is ready to be baked off, gently flip it onto some baking paper, and score the top so it can expand further in the oven.
When the oven temp is ready, carefully(!) lift the bread (on the paper) into the HOT baking dish. Place lid on top and bake for 20 minutes.
After 20 minutes, reduce temp to 220degrees C, remove the lid and bake for another 30-40 minutes, until golden brown on top and a hollow sound when tapped.
Remove from oven (and baking dish) and let cool thoroughly before cutting.
Store in an air tight container in the fridge and it will keep for a week. Enjoy!!