An Outstanding Christmas Cake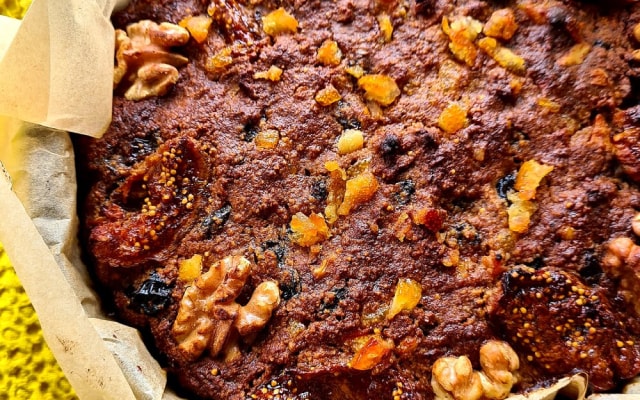 Every year there are some major resolutions made after the Christmas holidays but it doesn't have to be this way. And no, we aren't talking about giving it all up and eating celery and hummus through the holidays, but by making small, thoughtful goals such as focusing on whole foods, refraining from (as many) refined sugar treats, and staying hydrated (with water!), you'll come out the other side with a stronger immune system, and feeling better for it which, in all honesty is good for everyone. And yes, this Christmas Cake is relatively good for you! It also is one of the best we've ever tasted and happens to be gluten free, dairy free, refined sugar free and amazing. Soak the fruit the night before and it goes together in 20.
Also, a note on ingredients. Use organic dried fruit! It is worth it. Yes, non-organic dried fruit is 'prettier' and has more vibrant colors, but that isn't a good thing. The preservative used mostly on dried fruit are some form of sulfites, which a number of us have a negative reaction to (headaches, bloating, a lot of wind, etc.). So, reach for the good stuff and your body and gut will feel better for it.
Christmas Cake (gf, df, grain-free)
Makes 1 x 20cm cake
4 cups roughly chopped dried fruit (our favorite combo is figs, currants, cranberries, apples, prunes, and crystallized ginger)
2 T mixed peel or 1 T good quality marmalade
Zest and juice of 1 large orange
3/4 cup boiling water
4 T coconut oil, melted (can use butter if you want or even macadamia oil)
4 eggs
1 T coconut sugar or honey (tastes great without)
1 tsp vanilla
2 cups almond flour
1 tsp each vanilla + ginger + allspice or mixed spice + cinnamon
1/4 tsp fresh nutmeg
1/2 tsp baking soda
1/2 tsp salt
1 cup nuts (I use local walnuts), roughly chopped
Alcohol option- Replace 1/4 cup water with 1/4 cup your favourite alcohol and soak dried fruit in it the same
*Note- if you want some 'alcohol' flavour without the alcohol, add 2 tsp miso paste to the egg mixture
Place dried fruit in medium bowl and add orange juice, zest, and boiling water for at least 4 hours (overnight is ideal)
When ready to cook, preheat oven to 180 degrees C and line a 20cm pan with baking paper
Whisk coconut oil, eggs, honey, and vanilla in a large bowl. Add entire dried fruit mixture, and remaining ingredients.
Give a good stir and pour into prepared pan, topping with some extra peel, nuts, and fruit
Bake for 1 hour covered with foil, then remove for another 15 minutes. Test with a skewer (it should come out clean) and remove from oven.
If not consuming immediately, cool and wrap in an airtight container for upwards of a month
ENJOY!