Feijoa, Pear, Ginger Cake (or loaf) - GF, Paleo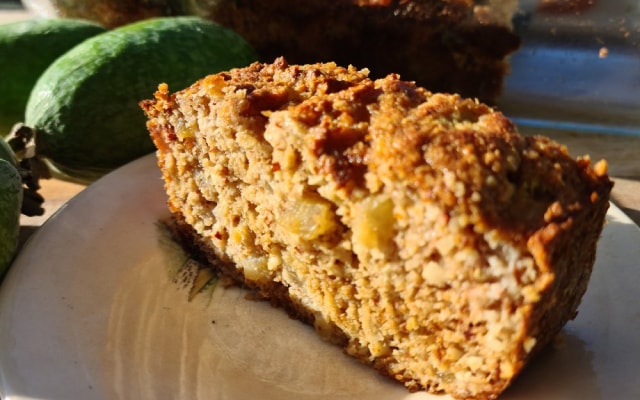 Makes 1 loaf (10 serves)
**Alternatively you can use our Yum Pancake mix as a one to one replacement for the almond flour and coconut flour
Ingredients
8-10 feijoas (3/4 cup), peeled and mashed
1 small brown pear, peeled and finely chopped
1/3 cup coconut oil, melted (or olive oil)
3 eggs
1 T good quality, plain yoghurt
1 tsp vanilla extract
1 T coconut sugar or maple syrup
1 cup  almond meal
3 T coconut flour, sifted
1 tsp baking soda
1-2 T crystallized ginger, finely chopped (depends how much you like ginger)!
1/2 tsp ground cinnamon
Pinch of salt
Method
Preheat oven to 180degrees C and prepare loaf pan by brushing with melted coconut oil.
Place feijoas and pear in a medium bowl and gently mash together with fork or potato masher. Add coconut oil, eggs, yoghurt, vanilla, and sugar. Sift in dry ingredients, ginger, and salt, mixing well. Let sit for a couple minutes.
Pour batter into prepared pan and bake for 30 minutes or until golden brown and firm when touched (or skewer with a knife to make sure middle comes out clean). Remove from oven and cool.
Serve with yoghurt and put your feet up!!