Happy Birthday Banana Cake (with Chocolate Icing)!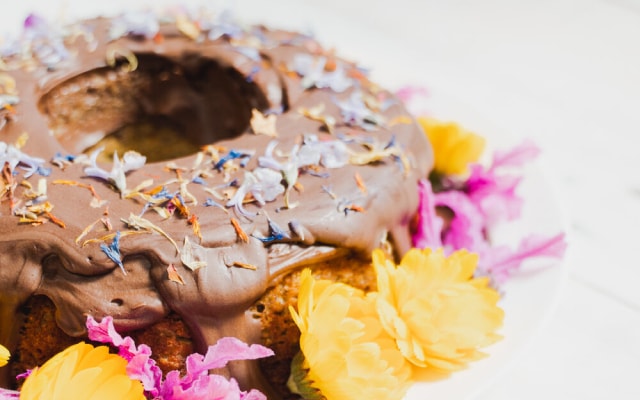 This cake is one of my favorite flavor combos…A not-too-sweet banana cake with an optional chocolate ganache frosting/icing. This recipe is inspired by a friend of Yum, Lara of @feedinglara in Wellington. The whole thing is gluten free, grain free/Paleo, dairy free, and fricken' delicious. ENJOY!!
For the Cake
3 bananas
2 eggs
1/4 cup coconut oil, melted (50g)- we love Blue Coconut's coconut oil for everything
1/4 cup maple syrup or honey
1 tsp good quality vanilla
1 1/2 cups Yum pancake mix (140g) or 1 cup almond flour + 1/2 cup tapioca starch + 1/2 tsp baking soda
1 tsp baking powder
Pinch of salt
Lightly grease a bundt or cake tin (a little of the melted coconut oil works great for this)
Preheat oven to 180degrees C
Place bananas in large mixing bowl and mash until smooth. Add eggs, coconut oil, maple/honey, and vanilla. Mix well.
Sift in pancake mix (or flours), baking powder and salt. Mix well
Pour into prepared pan and bake for 25 minutes or until slightly firm and toothpick comes out clean
Remove from oven and cool
Pour icing/frosting on top of cooled cake
For the Icing/Frosting
Place 1 1/2 cups (200g) dark chocolate (60%+) and 3/4 cups coconut cream in small saucepan and melt slowly. Remove from heat and whisk. Use immediately if you are after more of a chocolate icing, otherwise, place in fridge for a couple of hours, remove, and beat with electric mixer for a fluffier frosting.
For the Plating
Place cake on plate and top with edible flowers (or petals). Serve with a good vanilla yogurt and ENJOY!