Nelson Honesty Box is Back!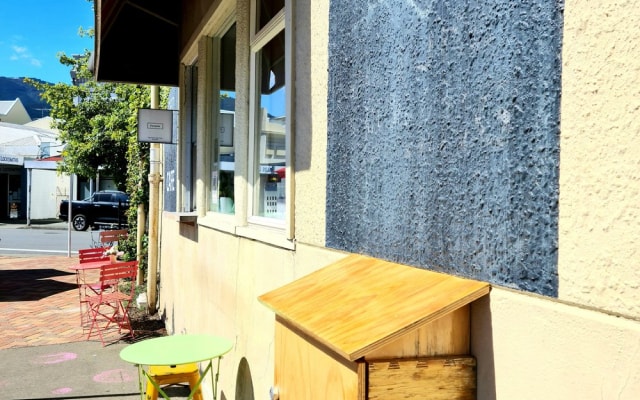 Thanks to our good friends at Red Gallery & Cafe here in Nelson, our Honesty Box is back in action! YAY!! Since moving Yum to a larger premises at Pic's Food Factory in Stoke in November, we have been working on a way to continue supporting our amazing Nelson community by offering Yum in BYO containers to reduce the need for packaging.
In all honesty, the Honesty Box isn't an easy thing for us to do, but it is the right thing to do because it reflects our values to look after our people and our planet. Being the Honesty Box needed a bit of a freshen, Mike told me if I sanded it, he would reinstall it. We wanted to find a location near where our previous premise was and our lovely friends at Red Gallery were excited for it, so, that was that!!
Last Friday commenced the Honesty Box back in service, offering locals the ability to fill up their own containers with a fresh batch of Yum, saving on packaging (for us and the planet). And, saving on costs, because we offer Yum at a special, discounted price to those who use our Honesty Box.
To sweeten things up even more, we are now offering our award winning Vanilla Bean & Almond Pancake/Waffle Mix here as well. So for $25 you get 1kg of this epic mix, which makes up 48 pancakes!! Might sound like a lot but when you can eat them for breakfast (pancakes and waffles), snacks (pikelets), and special treat dins or dessert, one can see the options are endless! We love the fact there is 12g of protein per serve (2 pancakes), zero added sugars, with good, delicious sustenance.