No.8 Granola — 100% NZ Grown!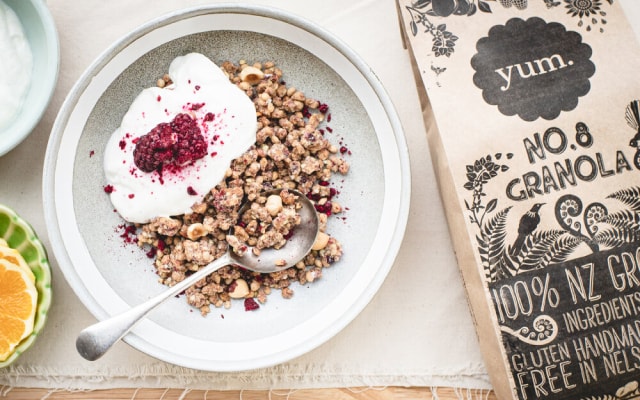 Welcome to the country's first, 100% New Zealand Grown Granola.
YES!! Supporting local best way we know how. We named it the No.8 after the iconic No.8 Wire-- A simple phrase that has grown to represent Kiwi ingenuity and resourcefulness-- to innovate using what's on hand. As a country, New Zealand has some of the best ingredients to be had...So why not use them and support local at the same time. We've hand-picked a selection of our favourite ingredients and combined them to create an authentic NZ breaky that supports and showcases New Zealand farmers and producers. The end result makes us even more proud of being in this amazing little country, embodying ingenuity and resourcefulness to its core.
The No.8 is the first of its kind in the country, made 100% from New Zealand grown ingredients. There is nothing else like it. It is an original recipe created by us, as an ode to our amazing, resourceful farmers, and sustainably hand crafted by us here in Nelson. Our intention is to not only connect the consumer to the farmers but to give the No.8 unique provenance only possible in New Zealand.  Being a chef, I have always been inspired most by local producers and their seasonal offerings. That's why there is no greater tribute I could think of than using 100% New Zealand grown products for this special granola.
The idea for the No.8 recipe came about over (the first) lockdown when we asked ourselves how we as a granola company, could best support local, New Zealand farmers and producers. The answer for us was to create the country's first 100% NZ grown granola. The No.8 name came first because we knew this new recipe would require ingenuity and resourcefulness in its own right. From there, it was a (fun) scavenger hunt to seek out granola ingredients. We contacted farmers directly to see what granola ingredients were available, how they were grown, and if they were keen to be a part. We found quinoa farmers on the north and south island, buckwheat, hazelnuts, and linseed in Canterbury, macadamia nuts from Northland, hemp hearts from Whanganui, and Manuka honey, apples, and boysenberries right here from beautiful Nelson. The response was phenomenal and we began collecting new ingredients and trialing recipes. Being our kitchen is 100% gluten free, it was an additional challenge to use other ingredients aside from oats. Fortunately, we have our own creative chef (me!), who came up with our own, authentic combo of some pretty darn special New Zealand grown ingredients. The end result is a beautiful, nutrient dense, fun granola packed full of flavour. Complete with sweet and salty granola clusters of protein-rich quinoa, hemp, and buckwheat, Manuka, apples and a nip of boysenberries that tastes zesty and flavourful.
The packaging is special in its own right as we wanted to offer it in home compostable packaging, made right here in New Zealand by Econic. Mike, (my other half here at Yum and life in general) personally designed the packaging,  making sure every aspect lent to the origins of the amazing producers responsible.
The No.8 Granola makes us even more proud of being in this amazing little country, embodying ingenuity and resourcefulness to its core. We hope you are moved by the No.8 too.
Thanks so much for your support!