Some Amazing Berry Scones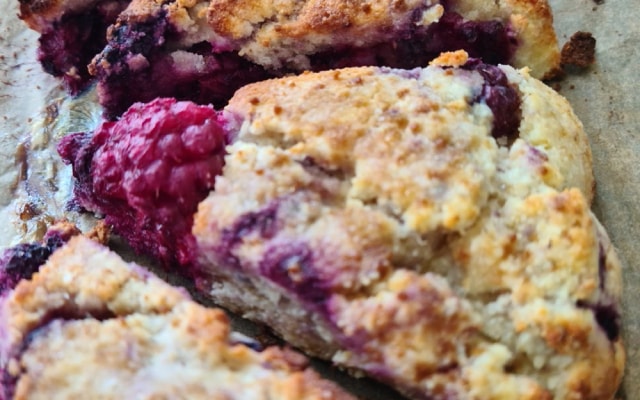 A few month's ago I was invited to be a contributor to one of our favorite magazines- 1964. In case you haven't seen it, it is full of all things mountains in NZ and hails from Wanaka. Unlike a lot of magazines these days, 1964 has great content thanks to its writers who find the most interesting topics. One of my favorites in a recent issue was comparing the different levels of scariness of ski access roads in NZ. With that, they wanted a little something different for a contributing recipe and after seeing the scone recipe I came up with, called it 'performance baking' as they are real food sustenance that can be taken as real food sustenance into the mountains. Enjoy!
Some amazing Berry Scones
When I'm adventuring into the nooks and crannies of this beautiful country, I want food that performs and tastes good. Is that possible?! YES!! While there is no denying the taste standards can quickly wane as each day passes in the great outdoors, it is nice when something tastes like home cooking/baking and performs. Meaning it feels good and its energy lasts beyond the 5 minutes it took to consume. Enter these amazing little gems. Packed with protein and healthy fats, they are gluten free and offer fresh berries to satisfy the often lacking fresh flavour while adventuring. Enjoy!!
Ingredients
1 1/2 cups almond flour (alternatively you can use 2 cups of Yum pancake mix and eliminate the coconut flour and baking powder)
1/3 cup coconut flour
1-2T sugar or granulated sweetener of your choice (I used allulose to keep the sugars super low)
1 1/2 teaspoon baking powder
Pinch of salt
1/3 cup good quality, plain yoghurt
3 T coconut oil, melted
1 egg + 1 yolk
1 teaspoon vanilla extract
1 cup blueberries, boysenberries, or your favorite berry (fresh or frozen), chopped into 1/2 cm pieces if larger
1 T raw sugar or coconut sugar, to sprinkle on the tops
Method
Preheat the oven to 180C. Line a large baking sheet with parchment paper and set aside.
In a large mixing bowl, mix together (you may need to sift here if your coconut flour is real lumpy), almond flour, coconut flour, sugar/sweetener, baking powder, a pinch of salt, and mix well.
In a separate bowl, whisk together yoghurt, coconut oil, egg, egg yolk,  and vanilla extract. Gently fold through the dry ingredients into the wet ingredients until combined, then fold through the berries. Mix gently until a nice dough is formed.
Turn out dough onto the prepared baking sheet and gently form/flatten into a thick disk. Using a sharp knife, cut 8 triangles, gently separating them as you cut, so there is an inch between them while they bake.
Brush the tops with the egg white and sprinkle the remaining tablespoon of granulated sweetener over the top. Bake for 15-20 minutes, or until golden around the edges. Remove from the oven and let cool completely.
To store: Store in airtight container for up to 1 week (fridge preferred but not required). Any longer, place in airtight bags to store in freezer.