The Loftiest (Zero Sugar) Marshmellows!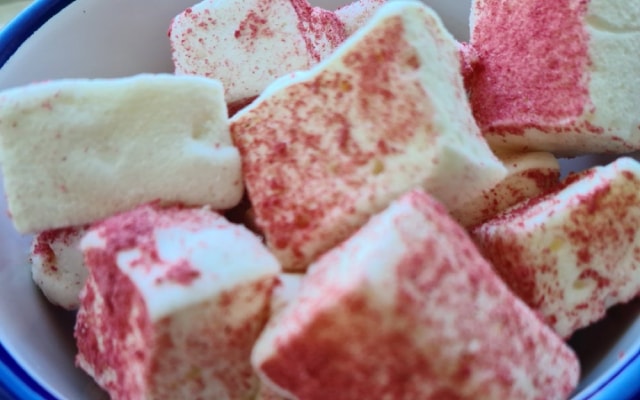 Marshmallows are a fond cooking memory for me. My mom and I used to make them around Christmas time, for our Christmas treat plates we would give out to our favorite friends. They boosted our Christmas spirit and provided some joy to those who received them. Fresh marshmallows are still a bit of a novelty to me as they taste so much better than any store bought version.  That said, I hadn't made them in ages as I try to limit our sugars as much as possible and to be honest, the old recipe was pure sugar. So in  wanting to create a version that didn't have any added sugar, I recently braved the unknown marshmallow world to create our family's first version sans sugar. And, it worked! Loftier than ever, filled with good quality gelatin (and naturally occurring collagen), they are healthier and offer no sugar-ills. I also Kiwi-fied them by sprinkling some Fresh-As freeze dried strawberry powder on top for a Christmas/Summer version. Enjoy!!
Allulose is my favourite non-sugar option. It is natural, low-carb, and doesn't affect our blood sugar levels whilst being kinder to our gut flora than the xylitol, stevia, and erythritol options. It also caramelizes with no funny/weird aftertaste! Expensive, yes, however use it in the right places and you'll appreciate its value too. ENJOY!!
Ingredients
1/3 cup water (80 ml/ 2.7 fl oz)
2 T good quality gelatin powder (22 g)
1/2 cup water (120 ml)
1 cup Allulose (200 g) (our local Bin Inn sells this)
1 tsp good quality vanilla extract (or beans)
1/8 tsp sea salt
Optional coating - Freeze dried fruit powder of your choice + 1 T allulose + 1 T tapioca starch
Method
Line a baking dish (28 x 18 cm with parchment paper and coconut oil
Sprinkle the gelatin in a small bowl filled with 1/3 cup + 1 T of water and let the gelatin soak up the liquid for a few minutes
Make a simple syrup by heating the remaining 1/2 cup of water with the Allulose
Stir and heat up over a medium heat until boiling and fully dissolved. Shake and tilt if needed to dissolve fully. If you've got a thermometer it should reach about 115 °C/ 240 °F (soft ball stage if you drop some into cold water to test). This should take around 10-15 minutes. Be patient!
For the next step a stand mixer is best however I used our trusty ol' hand mixer but keep in mind you'll need to hold it for 10-15 minutes! Place the bloomed gelatin into your stand mixer and turn on low to break up the bloomed gelatin. Add salt and vanilla
Quickly pour in the hot syrup straight on the gelatin, not on the sides of the mixing bowl so it retains the heat when it touches the gelatin. Increase the speed to high and beat for 10 to 12 minutes. When ready, the mixture will be fluffy and stiff
Turn the mixer off and quickly spread the marshmallow into your prepared dish. You'll need to work fast to spread it with a spatula. Let the marshmallows dry uncovered at room temperature overnight
Remove from the baking dish and cut with a greased knife and sprinkle with optional coating
Store in an airtight container, layered between sheets of greaseproof paper, for 2 to 3 weeks.
ENJOY!!!
11kcal per 1/15 recipe, zero net carbs, 1.3g protein