Tropical Delight Test Batch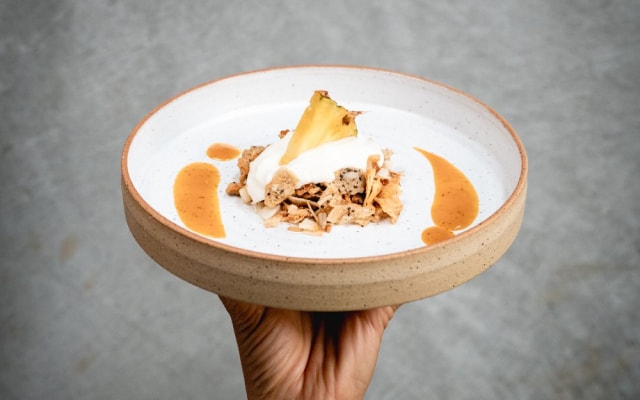 Chef's Edition Tropical Delight Granola Launches!
We decided to do things a little different this time around as we really wanted to say a big Thank You to our online community for their support. We wanted them/you to get to taste something really special, direct from our kitchen. No supermarkets, no shops…super fresh to your bowl (and bellies)! We also wanted our community to have a say with their taste buds and feedback on the Tropical Delight potentially being a new product in our family. With that, we made one batch of 200 bags to give our closest friends and followers the opportunity to taste something special and be a part of this project with us.
So, we launched quite possibly the best flavor thus far, the Tropical Delight. As a chef, I wanted something different that really popped and reflected the fresh ingredients. As a human being, I was craving tropical flavors and in all honesty, a tropical holiday, and I believe this flavor will take you there to that happy place.
One of the things I do really well is thoughtfully sourcing high quality ingredients. Special emphasis is put on the ingredients being organic, spray free, preferably from New Zealand if possible, and tasty-as. The Tropical Delight is made from organic coconut from Sri Lanka, which is fresh and juicy in its own right. I wanted a certain tartness or, brightness, which comes from Fresh-As, freeze dried passionfruit powder. The macadamias are spray free from the North Island, and the dried pineapple come from Nibblish, who specialize in thoughtfully curating dried fruit, with no extra ingredients or preservatives of any kind, which is an impressive feat as we believe strongly in avoiding them, especially suliftes, at all costs. It has just the right amount of sweetness to balance the tart flavors, coming from organic coconut nectar, making the Tropical Delight not only gluten free and grain free/Paleo, but also vegan.
With that, the Tropical Delight launched with some incredible feedback. I won't be surprise if it is so good that we won't be allowed to stop now. And, in all honesty, my taste buds are wanting more right about now. Good for breaky, a smoothie topper, or straight out of the bag for an epic, healthy snack.
Thanks to all who have supported us on this endeavor. I know a lot of emphasis is being put on supporting local however when you buy direct from us, it takes it to another level as it gives us all the profit margin that would otherwise go to the supermarkets, and that is a lot. We really appreciate it and every bit helps.
Cheers,
Sarah