Yum's Honesty Box featured in Stuff Feature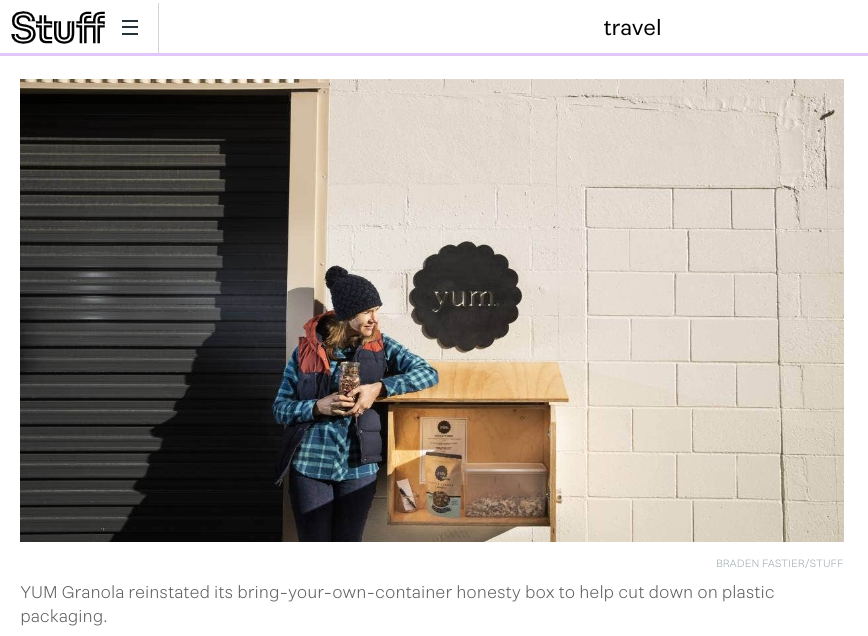 Last week we received a late night text from friends telling us to jump online and have a look as Yum was featured on the home page of Stuff in their travel feature, New Zealand's Best Roadside Honesty Box Stalls. Pretty exciting fore sure!
Honesty Boxes are a pretty unique feature that we love about New Zealand so it was a treat to see our humble Nelson honesty box include din the feature. "This award-winning cereal company sells its multiple varieties of granola online0 but has reinstated an honesty box in Nelson."
Customers place their orders online and drop their containers inside a wooden box attached outside Red Art Gallery & Cafe on Bridge Street downtown. Customers bringing their own containers helps the company cut down on packaging, and pass on a sizeable discount, making it a more affordable option, that is better for the community and the planet. 
If you are in Nelson and/or a local, check out our honest box on our website to learn if it would benefit you and your family's pantry (yes)! 
https://yumnz.co.nz/products/nelson-honesty-box-order?variant=45162697064736